Don't let the mild November fool you. Winter is coming and it means low temperatures and snow. It's essential to keep in mind that the winter season is the most challenging time to drive. It requires additional attention and a specific set of skills to be able to reach your destination safely. Truck drivers need to be especially aware of the hazards that come with driving in the winter because they can't avoid them as easily as a smaller vehicle can.
To stay safe, we've compiled a list of 5 trucking safety tips for the winter season:
1. Know your truck
Before winter starts, it's essential to make sure that your truck is in top condition. Your truck needs to have proper tires, windshield wipers, and defrosters to navigate safely through rain, sleet, snow, and ice. Never ignore a vehicle pre-trip inspection. Be advised that pre-trip inspections are mandated by the law and critical for safety on the road in any season. Before hitting the road, make sure to check for battery life, tire pressure, brakes, trailer connections, lights, and fluid. For the full checklist for a pre-trip inspection, please click here. Remember, it is hazardous for a driver to be on the road if there are any issues with their vehicle.
2. Know the route
As a driver, you need to know where you are going and how to get there. If your route is not familiar or has never been driven in winter weather before, then it's best that you find an alternative route or wait until road conditions improve before starting the drive.
Besides, winter can be a very unpredictable season. Be sure to have a full tank of fuel and do some research on weather conditions on your route. You should also file your trip plan with family or friends who know if you don't arrive as scheduled.
3. While on the road, watch for black ice
Black ice is a thin ice sheet that forms after the water has seeped onto the road. It's usually challenging to detect because it doesn't build up like regular ice but instead coats the road's surface. Black ice can cause you to lose traction or control over your vehicle, so always slow down when driving on it.
Also, keep in mind that the roads not only get more slippery during winter, but they can also be icy and full of potholes. Therefore, it's essential to check your speed and drive in a manner that you do not lose traction. Additionally, since low visibility is common during this time, you need to always use your headlights.
4. What to bring to eat on the road
The day before making a long-distance trip during winter, you should start packing food and snacks to eat while on the road. You never know what time you'll be able to stop for your next meal, so it's best if you always have some healthy snacks with you.
Typically, you can pack things such as sandwiches, granola bars, chips, nuts, beef jerky, and instant soups. However, you should also pack water since it's essential for your body to stay hydrated during the day.
It's also important that you have a winter survival kit in case of emergency. These include flashlights, batteries, blankets or sleeping bags, a first aid kit with extra medication, flares, and an ice-scraper. Also, check for tire chains and the tensioning key. Tire chains help to maintain traction when driving through icy roads.
As always, make sure that your phone is fully charged at all times. This becomes even more important during the winter since you'll be using it to call for help or call for a tow truck if something happens on the road.
5. Where to have a rest during winter
Always seek shelter or rest during nighttime. Driving in winter becomes extra dangerous at night due to reduced visibility. If you must drive at night, make sure that you turn on your headlights and follow additional safety precautions.
If you're stranded by the roadside, seek shelter in your truck for safety. If possible, run the engine to keep yourself warm and to provide heat inside the cabin. You can also turn on internal lights or emergency flashers to make your location visible to other vehicles.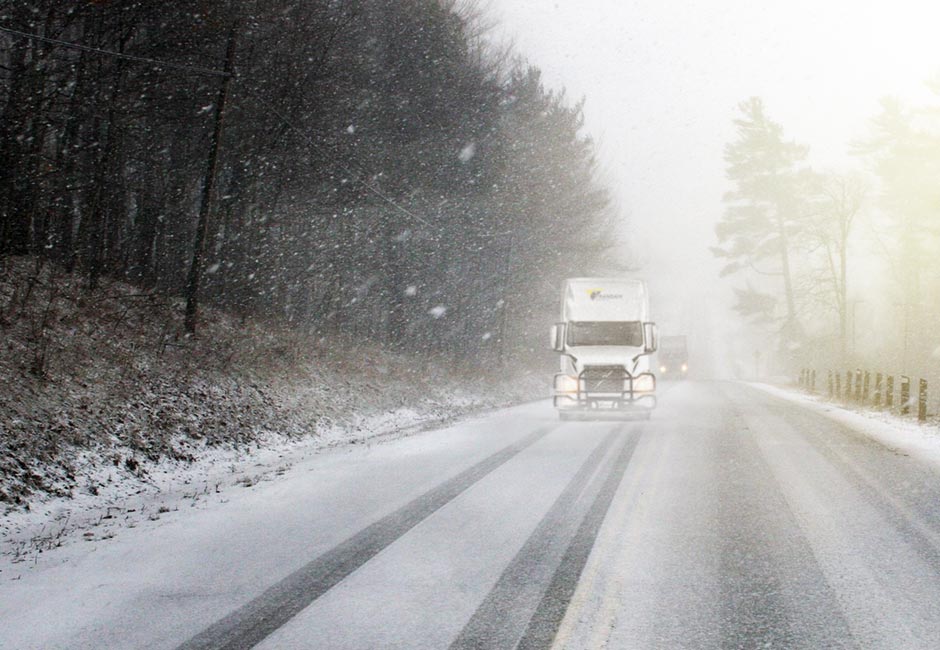 Bottom line
Winter is a demanding season for truck drivers, but it doesn't mean that you should avoid it altogether. You can reduce the risk of accidents and injuries if you follow the basic safety rules and advice such as using winter tires, checking your vehicle before heading out, and knowing the route. Additionally, prioritize your safety over anything else by taking breaks, ensuring that you're warm, and at your best while on the road.
If you have questions about safety, you may contact our Safety Manager: tel. 416-907-8101 ext. 4013
For career opportunities at Transam Carriers, visit our Careers page or email us: hr@transamcarriers.com.