With the safety of the environment becoming a great concern around the globe, the trucking industry has come out strongly towards going green. This has been a result of the accusations that the trucking industry has resulted in the greenhouse effect. Carbon emission has affected our environment, polluting the air that all living things around the globe need for survival. To be part of those conserving the environment, the Transam Carriers team has adopted a few methods, all aimed at being green.
As a leading company in the Canadian transportation sector, we ensure that we offer our customers reliable and environmentally friendly trucking solutions. Since most consumer goods are transported using trucks, our company has labored to reduce carbon emitted into the atmosphere. Here's how we have made this possible.
Vehicle technologies on trucks
We have used vehicle technologies on our trucks to guarantee safety for our environment on every mile covered. Some of these technologies include:
1. Aerodynamics features
Here at Transam Carriers, we have equipped all our trucks with aerodynamic devices such as side skirts to reduce the greenhouse effect and air pollution. Trailer side skirts are significant in preventing air from being trapped beneath the truck. If air gets trapped beneath the truck, it could lead to bumping against the undercarriage.
Our Volvo trucks are equipped with aerodynamic features such as rectangular shape and deflectors. Such features help to reduce rolling resistance. Rolling resistance leads to aerodynamic drag. Trucks without aerodynamic features need a lot of power to move hence consuming a lot of fuel. This fuel emits pollutants into the atmosphere.
2. Grille guards
Our trucks, drivers, and the goods carried spend a long time on the road. Several hiccups could arise while on the go. For instance, there can arise cases of collision with objects or animals. In such events, the grille guards protect the truck's radiator, bumper, and lights. They also help to eliminate downtime in case of collisions. To take care of our employees, trucks, and goods carried, we have instilled our trucks with grille guards. Our main goal is to ensure safety and on-time delivery of goods.
3. Speed governors
We have introduced speed governors on our trucks to help reduce carbon released into the atmosphere. Speed governors help to reduce the speed of our trucks, thus reducing the amount of fuel consumed. We have managed to transport consumable goods over long distances while reducing pollutant emissions with low fuel consumption.
New fleet
Since we want to offer good service delivery to our clients, we keep on upgrading our fleet. The new fleet that we introduce into our service delivery is designed to sustain a green environment. For instance, our Volvo VNL 760 model is environmentally friendly and efficient for our transportation industry. The vehicles are equipped with turbo compounding, adaptive gearing, and common-rail fuel injection technologies. Our fleet, as a result, is fuel-efficient and guarantees better productivity.
Idling reduction
At Transam Carriers, we also focus our efforts to reduce the amount of fuel used when the engines of our fleet are idle. We know that saving fuel consumed by our fleet can save us money and reduce pollutant emissions into the atmosphere. We have a team of drivers who have been highly sensitized to the need to protect and improve the environment. Our fleet has alternative power units that help recharge batteries instead of burning fuel to run the engines.
Monitoring and training of the personnel
We understand that truck operator can make or ruin the trucking industry. It's no wonder every trucking company should invest heavily in training and monitoring their personnel. Here at Transam Carriers, we train and re-train our personnel to keep them updated on emerging trends. We sensitize them on the need to protect the environment by driving trucks in the recommended way. We also monitor them while on the go to make sure they follow all the set guidelines.
Waste management
Waste mismanagement can take a heavy toll on the environment. Instead of spilling used oil on the ground, we look for a better way to recycle it. We also recycle used tires. As a result, we help reduce carbon emissions into the atmosphere, thus helping to keep the environment safe.
Responsibility and safety
Responsibility and safety are two out of our 12 company rules. We ask our employees to be responsible when it comes to safety aspects. We train employees and local communities on ways to save the environment. We also take responsibility for our safety and those around us. We know that a safe environment is crucial for those we do business with, which means company growth.
The SmartWay Transport Partnership (STP)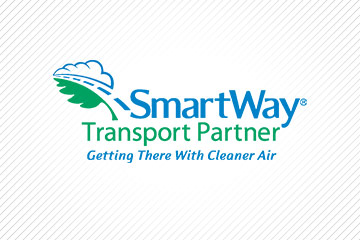 The STP is a program aimed at helping carriers offer quality services to their clients by lowering fuel costs and improve the mode of transporting consumable goods. Our carrier company has an STP certificate that helps to offer affordable services to our clients. Also, our fleet is equiped with fuel-saving technology, thus emitting less carbon into the atmosphere.
---
Transam Carriers team continues working hard to ensure the safety of the environment. For affordable and environmentally friendly services, call us today, tel. 1-416-907-8101.
Learn more about Transam Carriers' services: https://www.transamcarriers.com/services
Quick quote: https://www.transamcarriers.com/quick-quote
Email: info@transamcarriers.com