Probably it does not seem like it, but the trucking industry is one of the most important to Canada's economy in terms of strengthening it. The importance of this industry has especially become evident during the COVID-19 pandemic, as it facilitated the transportation of medical supplies and other items that were crucial to fighting the virus.
That's in addition to the fact that as much as 90% of all consumer products are delivered using trucks even during normal times. What this should tell you is that other than simply being a source of employment for more than 300,000 truck drivers, the trucking industry also facilitates the smooth running of other industries as well.
Does this mean that Canada's economy can't run without trucks?
Well, the better question would be, "How long can the Canadian economy survive without the trucking industry?' And the most appropriate answer for this would be, "For only so long." Come to think of it; fuel, which is one of the major inputs for a majority of businesses, is transported via trucks once in the consumer-ready state.
A majority of the equipment and machine parts used to generate electricity are also moved from one location to the other using trucks. Food, garbage, and other basic items that affect our day-to-day lives are also transported via trucks.
What does this mean? The trucking industry is the crucial connection between the different industries that affect our lives and consequently, the nation's economy.
If you have done enough research, you already know that if all trucks were banned from traveling in Canada just for one day, we would begin to experience immediate effects such as failed package deliveries. Push this to one week and major effects such as depletion of oxygen in medical facilities and cessation of automobile travel come in.
In that light, we can confidently say that the trucking industry is one of the many pillars of the Canadian economy, pumping approximately $40 billion into the country's revenue.
Is that all?
Are there any other benefits?
Of course, there are lots of other benefits. The trucking industry could be thought of as a major benefit to our environment. "How, yet trucks burn fuel to move?", you might ask. Well, if you think of it more closely, if we eliminated all trucks and each company had to find an alternative means of transport, a majority would have to rely on many smaller cars. How much pollution gases would we be releasing into our environment?
Besides, trucks save a lot of time and are more efficient when it comes to transporting larger and/or multiple consignments. In truth, the trucking industry has lots of benefits yet we don't always realize it.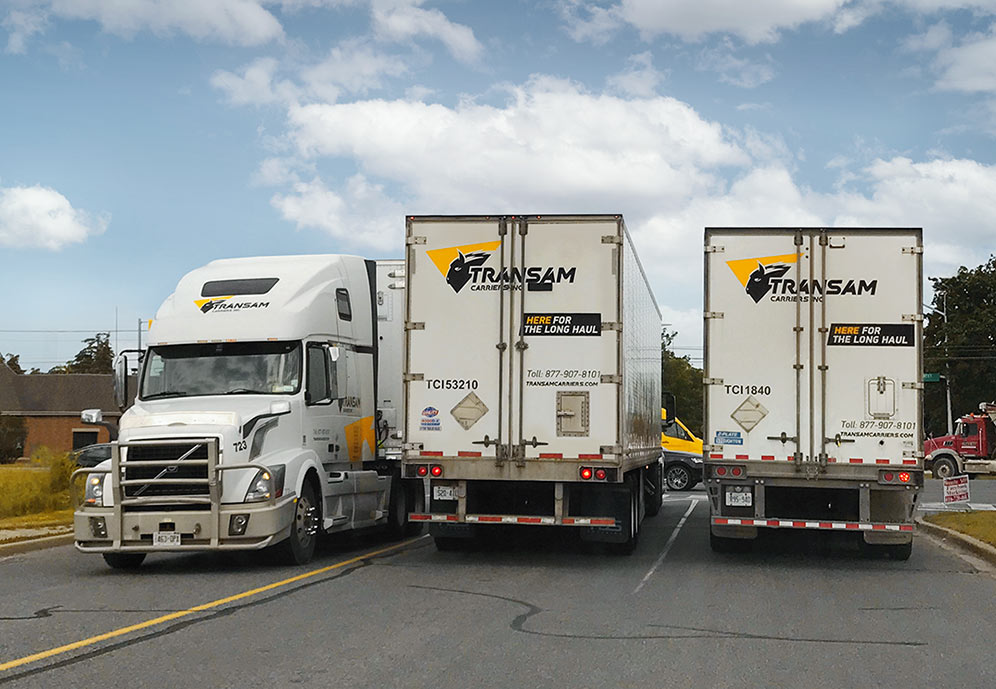 We want to serve you even better
With more than 14 years in the trucking industry, Transam is only aiming higher and doing its best to provide even better services. We offer:
Full Truckload (TL) services in Canada as well as between Canada and the United States
Less-Than-Truckload (LTL) services in Canada and also between Canada and the U.S.
Intermodal services
Other logistics services including cross-docking, consolidation/deconsolidation, and warehousing
As a company that strives to soar over the competition, we are always adopting newer, innovative, and more efficient solutions so that we can provide unrivaled services for our customers. Our commitment to great service, unmatched expertise, and unwavering reliability are our strong points.
We want to serve our customers' needs and do more in the most unique ways possible so that we can put a smile on your face. With our goal of having "Customers for life", you can be sure that we will go above and beyond to ensure that you are getting the best services because you deserve them.
---
Learn more about Transam Carriers' services: https://www.transamcarriers.com/services
Quick quote: https://www.transamcarriers.com/quick-quote
Email: info@transamcarriers.com
Tel. 416-907-8101
For career opportunities at Transam Carriers, visit our Careers page or email us: hr@transamcarriers.com.